We know your Visa Application Concerns
What do you really want to know about your visa application?
CoCo Immigration Law Office knows the answer.
Our free Check-Up service can find out the likelihood of your visa application being approved with a high degree of accuracy.
---
Once the free Check-Up service has figered out the likelihood of approval, you can take the strategy to increase the likelihood of approval.
CoCo Immigration Law Office will make proposals tailored to each individual's circumstances so that you can continue your activities in Japan, not just for the immediate visa application.
We also promise to support your application with a view to post-approval, which is necessary to continue to win the permission.

Click here for free Check-Up

You can also take this service over the phone.
Services
In addition to our free Check-Up service,
CoCo Immigration Law Office can provide support for the following visa applications.
support for those who
wish to enter Japan to live.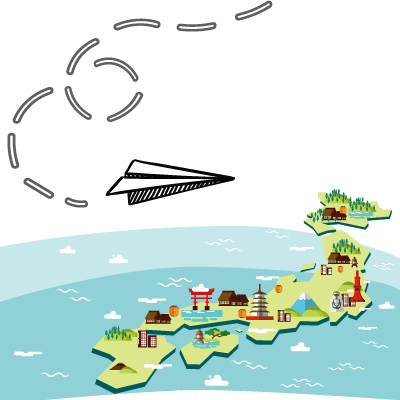 Application for issuance of
a Certificate of Eligibility
Support for those who
change their activities in Japan.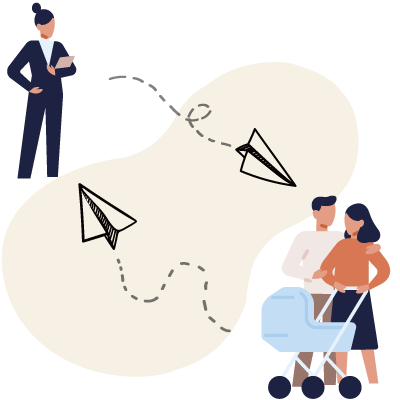 Application for
Change of Status of Residence
Support for those who
wish to extend their period of stay.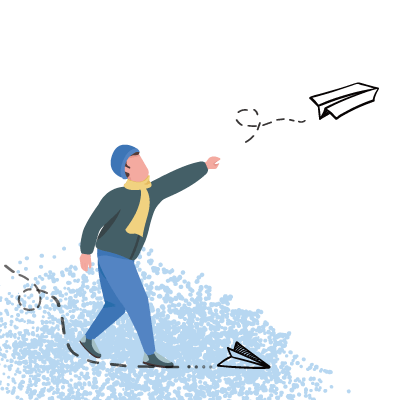 Application for
Extension of Period of Stay
Support for those who wish to live in Japan for the rest of their lives.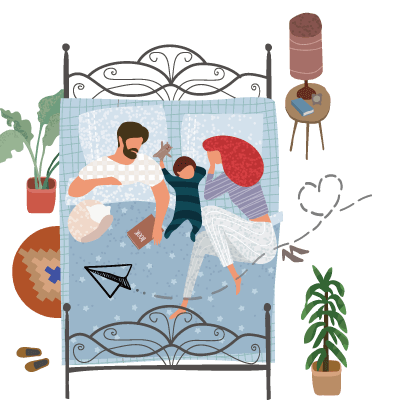 Application for permission for
Permanent Residence and Naturalization
We can also provide support for
all other types of visa applications.
Contents of Our Support
Applying for a visa requires a lot of expertise in order to apply correctly and build up a track record of approval, from the procedural flow to understanding the requirements, collecting necessary documents, and preparing documents.
In addition, many people find it difficult to visit the municipal office several times on weekdays.
CoCo Immigration Law Office values the opinions of our clients and confidently provides the services that are truly necessary for visa applications.
---
The following table compares the case where an applicant applies for a visa by himself/herself and the case where an applicant uses our services.
Contents

If you ask us to apply

If you apply by yourself
Required documents

We will guide you through the individual and specific required documents free of charge.

※

The information on the Immigration Services Agency of Japan website is not sufficient.

Consulting on all aspects of application

Unlimited access to expert consultation services for the duration of the contract.

It takes longer than necessary to figure out the procedures.
Collection of necessary documents※1

The documents can be obtained on your behalf.

You need to find out what documents to get




and where and how to get them.

Preparation of application documents

You don't have to worry about how to write or what to write because our experts will prepare it for you.

It takes lots of time to create.

Statement of Reasons
(Explanation Letter for Visa Application)
This is a major factor in determining if the permission is granted. Our experts will draft the statement that will maximize your chances of obtaining a permit.

It is difficult to arrange the statement that meets permit requirements on your own.

Checking and preparation of various contracts.
Our experts will confirm this
It takes time to confirm.
Japanese translation of documents from home country.

We can translate your documents.

※2

It takes time and effort to find a translation agency.

Submitting the application to Immigration Services Bureau.

As soon as the documents are ready, the application will be processed smoothly.

The application must be made on a weekday and in a long line.

Accompanying the applicant to the Legal Affairs Bureau.
(only for naturalization)

Worries and anxieties about missing out are eliminated.

There is a concern that you may miss necessary information and go to the Legal Affairs Bureau more than necessary.

Dealing with the requests for explanation and submission of additional materials by Immigration Services Bureau.

Our experts will handle this important aspect that can make the difference between a permit or a denial.

Wrong answers are a direct cause of failure.

Checking the progress of the examination.

Check as needed.

Lack of data on processing times leads many people to make inappropriate inquiries and become unnecessarily anxious.

Receipt of Result Notification

The notification will be sent to our office.

Notification will be sent to your home address.

Receipt of Residence Card.
You can also ask us to pick up your card.

You must pick it up in person on a weekday.
※

This service is available after you use our free Check-Up service

.
For collecting and applying for necessary documents: If necessary, we can perform procedures on your behalf at Japanese government offices such as Immigration Services Bureau, Legal Affairs Bureau, city/ward offices, tax offices, driver's license centers, prefectural offices, etc.
Our translation service is available at 3,300 yen per A4 size sheet. (reference fee for English, Chinese, and Korean.)
STEP to Order
Check-Up Service
First, you can take a free Check-Up service to find out the possibility of getting a permit, by yourself or over the phone. 5 to 10 minutes of answering simple questions will be all it takes. We will inform you of the results of the Check-Up by phone or e-mail.
Results and Proposal
Based on the information you entered in the free Check-Up service, we will provide you with the results and specific advice on how to increase your chances of getting a permit. At the same time, we will provide you with an estimate of the cost of the visa application if you request us to support your visa application.
Quotation and Contract
After presenting our estimate, we will set up a meeting with you if you wish. The interview after the free Check-Up service is free of charge, so you can decide whether or not you actually need our continuous visa support after talking with PIC. After the contract, we will explain the procedures, the method of payment, and anything you want to know about your visa application and our support.
Preparation and Application.
Voice of Customer
Here are just a few of our customers' testimonials.
You can also see our ratings on Google Reviews.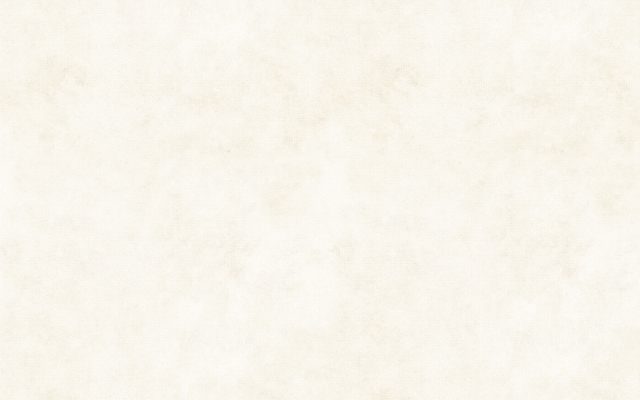 Speedy, Excellent Value,
Courteous and very Reliable.
I was very glad to hear that CoCo Immigration Law Office could take consultation via Zoom from anywhere. They responded immediately to our urgent inquiries, explained the necessary information and procedures in a clear and easy-to-understand manner, helped us obtain the permit smoothly, and were very affordable price. It had been a waste of time worrying by myself. I wish I had consulted with them earlier.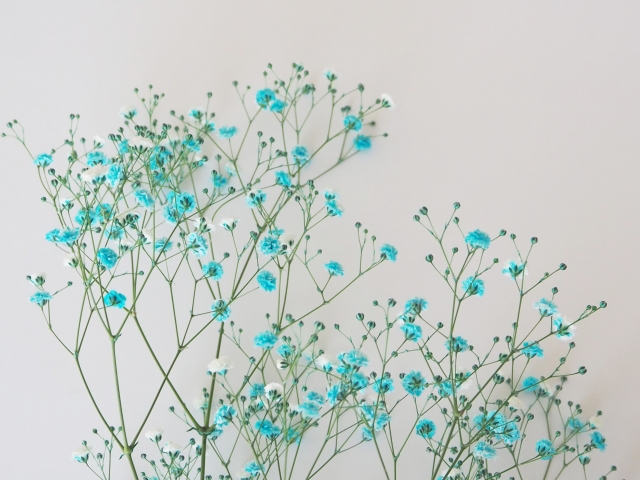 I decided to ask for help because
I thought they were experts I could trust.
At first, I was planning to apply by myself, so I first used the free Check-Up service to find out the possibility of winning a permit. I had heard that the documents listed on the Immigration Services Agency of Japan's website were not sufficient, but no other specialist was able to provide me with information on even individually customized required documents, which was very helpful. I understood the importance of keeping to the point in preparing an Explanation Letter for Visa Application. They gave me a lot of useful information, and won permission for me smoothly.
– VOICE –
Here is a small office in a rural town,
but lots of VOICEs have come from all over Japan.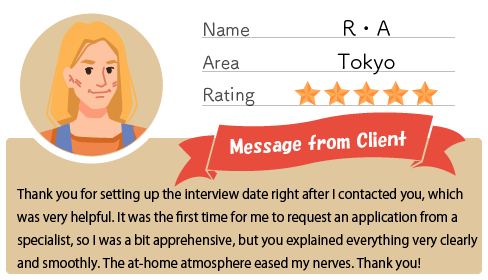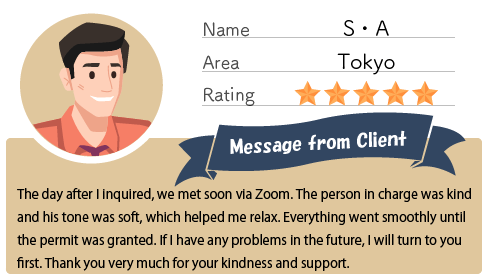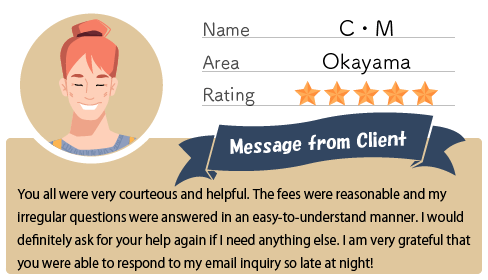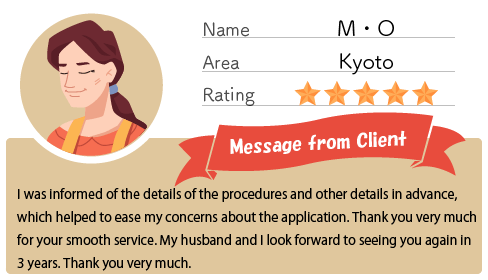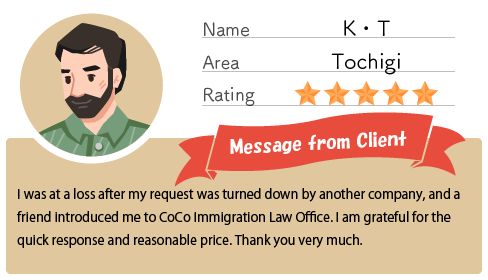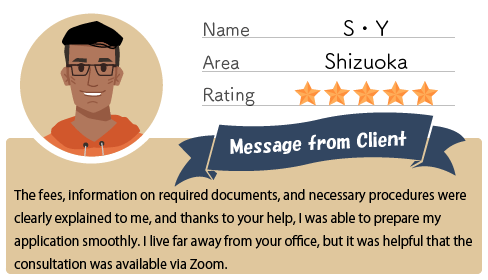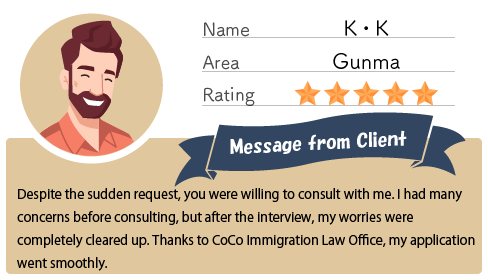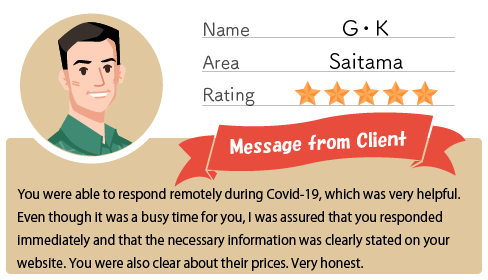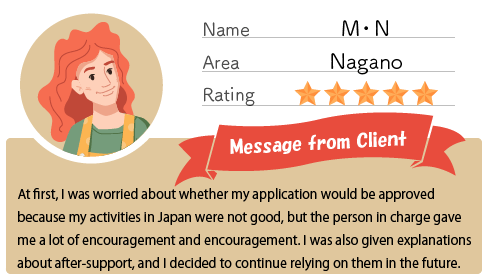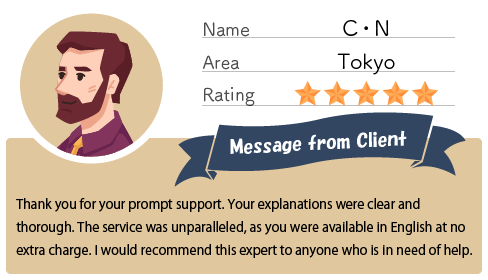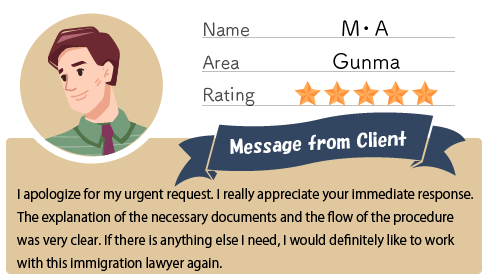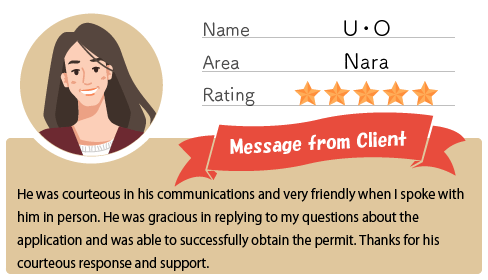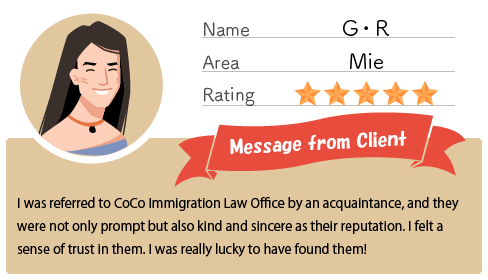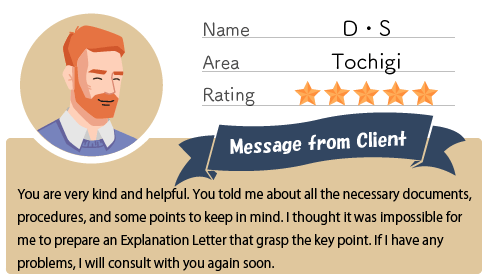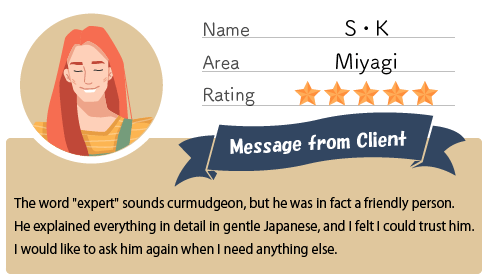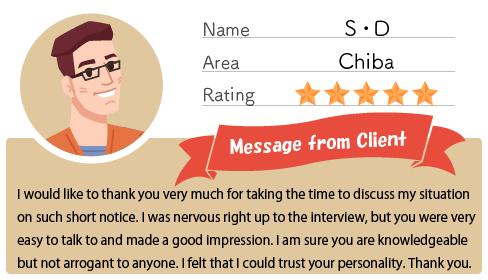 ※Click on the image for better reading.
FAQ
What is the advantage of hiring CoCo Immigration Law Office?

Just by answering our free Check-Up service, we can tell you in advance whether or not you will be granted a permit.
We know what it takes to get a permit, so we can increase your chances of getting a permit.
Even if your chances of obtaining a permit are low at this point, we can make suggestions to cover the week point.
We are able to process your application quickly and reliably with our own system.
In case of non-approval, we will provide a full refund in accordance with our refund policy.
You do not need to take time off work to go to the government office or Immigration Services Agency of Japan because we can collect, prepare, and submit an application for the documents on your behalf.
After obtaining the permit, we promise to provide you with continuous support while you are in Japan.

I would like to know about fees and payment methods.

Please click the button below to check the basic fee. Fees may vary depending on the level of difficulty, but you can, of course, check the details of the estimate and the contract in advance. After the contract is signed, we are supposed not to charge any additional fees without your consent. Half of the fee is paid in advance as a retainer fee, and the remainder is paid after the application is accepted by Immigration Services Agency of Japan. You can pay by cash, bank transfer, credit card, and electronic payment.

Is there any guarantee in case that the permission is not granted?

In the event that the permission is not granted even though the we have received your request and submit the application, we are supporsed to reapply up to twice, free of charge. If the application is still rejected, we will refund all fees in accordance with our refund policy.

Where is your service area?

Our free Check-Up service and consultation are available nationwide. We also support online applications, so we can accept requests from anywhere in Japan. If you are in the Kanto area (Tokyo, Kanagawa, Saitama, Chiba, Gunma, Tochigi, and Ibaraki), we can suggest a meeting location near your place. Online interviews are also available, as needed.

Can you take consultation late at night or on weekends and holidays?

Our free Check-Up service for possible permits is available 24 hours a day, 7 days a week, 365 days a year. If you are unable to consult with government offices or other immigration law firms on weekends or late at night, please take advantage of our free Check-Up service to help alleviate your concerns. Consultations call and meetings with us are by appointment only, so please let us know when is convenient for you.
Not to Fail in Your Visa Application
There are some things you need to know in order to prevent the permission is not granted.
One of the major causes of disapproval is CARELESSNESS.
If you are not careful, your application may be denied suddenly.
Anyone can apply for a visa.
Unfortunately, however, there are very few people who apply for visas correctly on their own.
In other words, there are many flawed applications.
It means that
It would not be surprising if they suddenly could no longer live in Japan.
With the exception such as permanent residence, your visa must be renewed on a regular basis.
Therefore, it is important to build up a correct application history to apply for the next one.
Do not take into account the tolerance of the examiners.
Do the best you can with this time application with an eye to future renewals.
It is the difference between being permitted or not.
 Profile 
We will continue to support your life in Japan
Applying for a visa does not end with approval.
As long as you continue to live in Japan, there will be many difficulties.
We promise to provide continuous support to our clients even after obtaining permission.
Please let us help you make your life in Japan richer and more enjoyable.